Thu, 17 December 2009
Click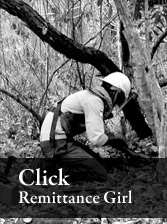 Lying on his belly in the middle of a rice paddy, Carl showed the new trainee, Sovann, how to come at the anti-personnel mine, partially embedded in the muck, at a 30 degree angle and gently touch the knife tip to the side of the box, feeling for give. The young man, sweating as profusely as Carl inside his protective helmet, grinned and copied him. He had a nice steady hand, wasn't easily spooked or too superstitious. Carl felt a swell of pride for his student.
Click is a non-consensual story that might be disturbing to some readers / listeners. Please keep that in mind. It is also written in 3rd person limited from a male POV and, because of this, I have been hesitant to podcast it myself. Monocle (Raziel Moore) of eroticwriter.wordpress.com very kindly agreed to read it for me and I think the male voice, and his very good reading of the story really brings it to life.
Monocle is a very good erotica writer in his own right. He shares a blog with Red Bud (Will Crimson). Please take the time to visit it here.
Comments[1]
---
Wow. Powerful stuff. Leaves one feeling a bit awkward - i.e. should I be turned on by this Of course, many of us have rape fantasies. Usually, the rapist of our fantasies is clean, sexy and eventually wins us over and we become willing participants. So very different than what real rape is. As a womens health worker and a feminist (whatever that means) I felt conflicted by this story. Then I decided, isn\'t that what good writing does? Affects us in some way, moves us, disturbs us, makes us think, long after the story is over. I like the portrayal of the male character. You are not asked to feel sorry for him in spite of his being twisted and damaged by his own traumas. It\'s just simply that: he\'s twisted and damaged. Just another sick fucker needing absolute power and to inflict pain and misery. I also thought the portrayal of the female character was interesting. The fact that she has a small part in the story and very little time is spent poring over her feelings is different than the typical rape retelling. Are we all really whores for one thing or another? Probably. So, yes, rape is terrible and tragic and it happens ALL the time. We should do everything possible to keep it from happening so much. I don\'t think that means not talking about it. And yes, I was turned on. So what. Lots of things turn me on that I don\'t have to act upon. Isn\'t that the point?
Post your comment: