Thu, 24 December 2009
The Central Registry
The Centr
The Central Registry in Girls on Top: Explicit Erotica for Women Edited by Violet Blue
Publisher: Cleis Press (February 10, 2009) Language: English ISBN-10: 1573443409 ISBN-13: 978-1573443401
Comments[0]
---
Thu, 24 December 2009
Midnight At Sheremetyevo
Midnight...a cold, empty airport, almost devoid of humanity, and a very hungry vampire.

This story is featured in

Midnight at Sheremetyevo
in The Sweetest Kiss: Ravishing Vampire Erotica
Edited by D.L. King
Publisher: Cleis Press (October 1, 2009)
Language: English
ISBN-10: 1573443719
ISBN-13: 978-1573443715
Comments[0]
---
Thu, 24 December 2009
The Baptism
A short story by Remittance Girl in the erotic horror genre. Set in 1870, in French Indochina, a recently ordained Catholic priest has come to a small village to spread the gospel to the heathen natives.
If you would like to read along with the text original, please go to my website: www.remittancegirl.com
Comments[0]
---
Wed, 23 December 2009
Ghost Marks
This is a podcasted version of the erotic short story "Ghost Marks".
With one slender finger, Rachel pushed the crystal king onto its side with a click. It rocked back and forth on its round base on the marble chessboard.
Her father's eyes flitted over the chessboard, tracing lines of power. "What the hell do you think your doing?"
"I'm resigning."
"Don't be stupid! Why would you resign? Your king isn't in any danger."
"I'm going to lose. I made a mistake, early on."
If you would like to read this story or others, please visit my website at
www.remittancegirl.com
Comments[0]
---
Sun, 20 December 2009
Bequeathed Part 1
This is a podcasted version of part 1 of the erotic short story 'Bequeathed'.
The key slid smoothly into the lock on the front door and opened with a sharp snick. This surprised Mina, although she was not exactly sure why, but it was the final step in the month long process of taking ownership of the house she had inherited from her great aunt Patty.
If you would like to read the whole of this story or any other, they are available on my website at
www.remittancegirl.com
Comments[0]
---
Thu, 17 December 2009
Click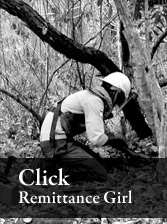 Lying on his belly in the middle of a rice paddy, Carl showed the new trainee, Sovann, how to come at the anti-personnel mine, partially embedded in the muck, at a 30 degree angle and gently touch the knife tip to the side of the box, feeling for give. The young man, sweating as profusely as Carl inside his protective helmet, grinned and copied him. He had a nice steady hand, wasn't easily spooked or too superstitious. Carl felt a swell of pride for his student.
Click is a non-consensual story that might be disturbing to some readers / listeners. Please keep that in mind. It is also written in 3rd person limited from a male POV and, because of this, I have been hesitant to podcast it myself. Monocle (Raziel Moore) of eroticwriter.wordpress.com very kindly agreed to read it for me and I think the male voice, and his very good reading of the story really brings it to life.
Monocle is a very good erotica writer in his own right. He shares a blog with Red Bud (Will Crimson). Please take the time to visit it here.
Comments[1]
---
Sun, 13 December 2009
Pattern Recognition
He was a three, I realized with a little shiver. A metal-legged spider scampered up the ladder of my spine and curled itself into a cold, tingling ball just beneath the back of my skull. A perfect, perfect three. As humans, we like threes, but rarely had I met such a dedicated one.
Pattern Passion is a short erotic story about people who see the erotic in numbers.
(To read this and other short erotic fiction, go to www.remittancegirl.com)
Listen Now:This material is (c) 2009 Remittance Girl
Comments[0]
---
Sun, 13 December 2009
Dark Garden
I'm back at his doorstep. This place I've sworn I'll never return to. Many times.
I feel dirty, ugly, as I ring the bell, and uglier still when he answers the door wearing nothing but a pair of baggy trousers. His feet are bare, his hair disheveled, he hasn't shaved in a while. He's not handsome, or well built, or even particularly well hung and, worst of all, he has a laugh that makes me cringe. I do my very best not to make him laugh.
Read this story and others at www.remittancegirl.com
There is no description for this file!
Comments[0]
---